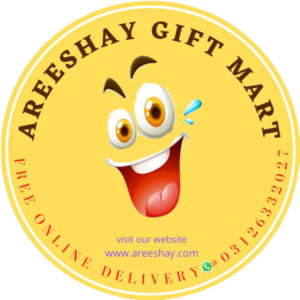 We are the Areeshay Gift Mart Gifting Company. We Sell Happiness. Areeshay has been established to spread happiness through gift delivery services throughout the world with care for your emotions.
Areeshay Gift Mart is a Multan-based company. We deal on both platforms, offline and online. Our offline store is in Multan, but our mission is to expand all over Pakistan. We also deliver online. We are famous for our special gift baskets, empty gift baskets, and special gift boxes. Our mission is to provide customers with selective and high-quality products, both branded and own-label, at the best value while also taking care of their emotions.
We offer sentimental gift services around Pakistan to their loved ones, whether they live in Pakistan or not. The site will also market and sell selected gift baskets, empty gift baskets, chocolate gift baskets, chocolate bouquets, gift hampers, special gift boxes, surprise gift hampers, fresh flowers, fresh cakes, greeting cards, online toys for kids, books, women's apparel, mobile phones, traditional handicrafts, watches, perfumes, wallets, jewellery boxes, and bangle stands, hence offering a range of products around the world with an enjoyable home shopping experience.


Multan Special : Areeshay Gift Mart is basically from Multan, Pakistan, so we provide free delivery all over Multan.


Our Vision: Our vision is to provide excellent delivery service with care of the customer's emotions. (On the point of delivery, they feel wow.)


Our Mission: Our mission is to build Areeshay as the world's No. 1 gift delivery service, to build strong and long-term relationships with our customers and clients, and to provide exceptional customer service by delivering the best quality products.


Our slogan: "AREESHAY GIFT MART, WE CARE FOR YOUR EMOTIONS."


Our Special Products: Gift Baskets, Chocolate Gift Baskets, Chocolate Gift Hampers, Chocolate Bouquets, Empty Gift Baskets, Fresh Flowers, Cakes, Toys, Best Toys Online, Perfumes & Body Spray, Wallets, Watches, Jewelry Boxes, Bangle Stands, Couple Gifts, Show Pieces, Home Decoration Items.


Occasion Gifts: Birthday Gifts, Friendship Gifts, Anniversary Gifts, Wedding Gifts, Father's Day Gifts, Mother's Day Gifts, Valentine's Day Gifts, New Baby Gifts, Islamic Gifts, Eid Gifts, Ramadan Gifts, Customized Gifts.
| | |
| --- | --- |
| Projected By:  | UB DIGITAL |
| Founders:  | Bilal Ahmad, Usman Nawaz, Samiya Bilal |
| CEO: | Bilal Ahmad |
| PRODUCT DESIGNER:  | Samiya Bilal |
| Sales Manager: | Usman Nawaz |
| Launched:  | 05-Nov-2018 |
| Email Address: | areeshay.com@gamil.com, admin@areeshay.com |
| Head Office: | Multan, Punjab, Pakistan. |